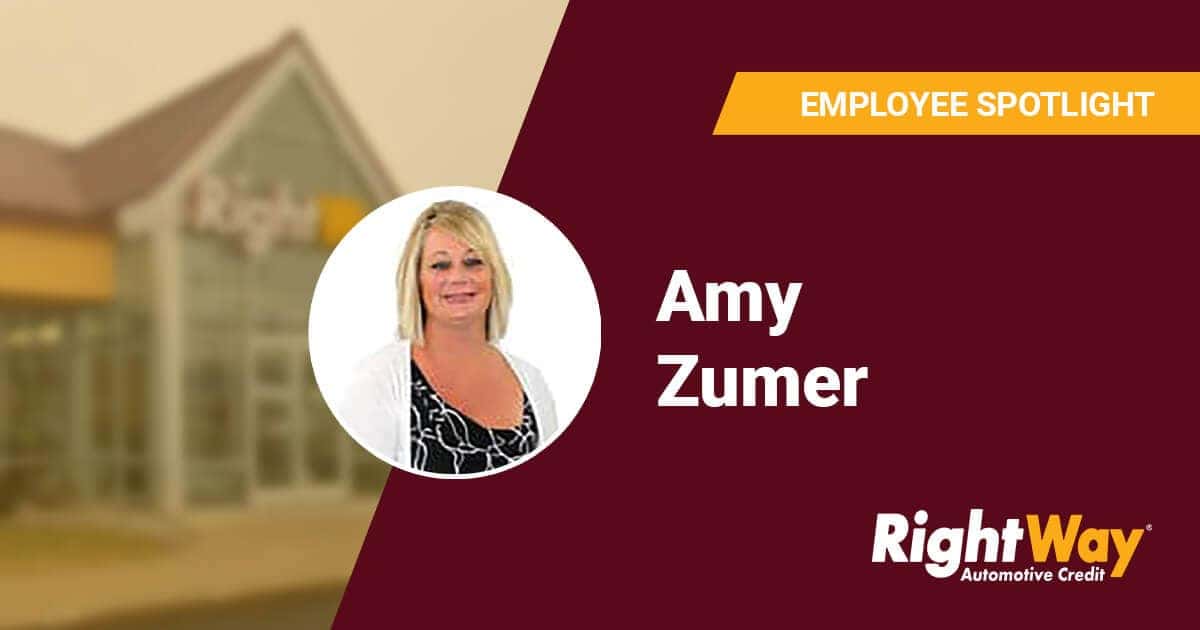 "Garber Makes Sure You're Successful": Amy Zumer's Story
When Amy Zumer started working with RightWay in 2000, there were three stores.
Now there's over 40 locations. She had no idea the company would grow so much so fast, but that's life, isn't it? Sometimes, it surprises you in the best of ways.
"It's awesome to be a part of a company that has grown so much," said Amy, who is the sales manager at the RightWay location in Saginaw, Michigan. "We started with three, and now there's stores all over the state. It's great. It's grown because of our recruiting efforts and how we've trained new managers and helped our staff grow. We promote within and people move on and move up to open a new store, which helps the community."
Amy has moved on and up, too. She's had a fulfilling career with Garber and RightWay so far – a career she kickstarted by joining the company in 1986.
For 35 years, she hasn't just seen growth…she's seen life change — not just in RightWay customers' lives, but her own.
From Garber to RightWay
Amy wasn't even 18 when she entered the arena that is the automotive industry.
"I was a junior co-oping as an office manager," she said. "Then I started working for Garber in 1986."
After spending a year with Garber, Amy worked for different dealerships. She then decided to stay at home with her family and run an at-home daycare.
But in 2000, Garber walked back into her life. This time, it was for a different entity of the company: RightWay. She embraced the opportunity.
"I like everything about the car business, so I was interested," she said. "They hired me as a finance manager for RightWay. What attracted me to RightWay was how it was connected to Garber. I knew I would love it because it was Garber. Garber makes sure you're successful."
Amy officially became the manager at RightWay in Saginaw — a role she's held with pride ever since. She said she enjoys the fact that RightWay improves lives by providing a plan and actual steps towards building good credit. 
"There are so many people that need help with their credit and RightWay gives them the way to do so," Amy said. "There are buy-here pay-here places, but that doesn't help people. We actually report your payments to the credit bureau to help improve your credit. With RightWay, people follow a three-step process. If you make your payments, the process does work. I love that."
She has witnessed firsthand how lives can change, thanks to RightWay's process.
"There are so many stories of life change at RightWay," she said. "I can't even count the stories. You sit there and tell the customers, 'Wow, I'm so happy you did what you were supposed to do and it worked.' And the customers say, 'Wow, it worked.' It's amazing."
Amy said a key component that sets RightWay apart from others is how customers are treated: a reflection of Garber's values as a whole.
"We treat people how we would want to be treated," she said. "Everyone has their own personal story and we understand that. We don't just help people with bad credit; we help people with good credit. Everyone is treated with respect. We make sure they are happy. If they have a complaint, we make sure we can take care of it."
RightWay is not the only Garber entity that Amy has been affiliated with. From 2005-2007, she served as a billet family for the Saginaw Spirit, a major junior OHL hockey team based in Saginaw and owned by Dick Garber.
"That was an awesome experience," Amy said. "My son played hockey; he was 10 and my daughter was 11. It was really cool to have a Saginaw Spirit player stay with us."
Giving and Receiving
Now that we are in the holiday season, Amy reflects on the generous spirit of Garber. As part of the company, RightWay makes it a priority to give back to the communities they serve – especially during this time of comfort and joy.
"We do a lot for the community," Amy explained. "During Christmas, we always pick a family to help out. It was great last year – we gave a woman who had two or three kids a vehicle we had taken in on trade so she had transportation, and we bought them Christmas dinner. During Thanksgiving time, we pick five families and buy Thanksgiving dinner. Garber is so generous."
Amy knows what it's like to face hardship. She, too, has been the recipient of Garber's support during a challenging time in her life.
"I had my own personal experience where Garber helped me, and I appreciated it so much," she said. "In May 2018, I was diagnosed with stage 3 breast cancer. Garber offered me unwavering support. They never questioned why I wasn't at work. They knew I was getting my treatments, and I was able to come in when I felt good."
On top of being flexible with her work schedule, the company also hosted a fundraiser for Amy.
"The money raised from the fundraiser paid for everything my insurance didn't cover," she said. "It helped so much. It took the stress away and it's a big part of my recovery."
Amy said she is grateful for Garber's life-changing support.
"There are so many people with cancer who lose their jobs because the company doesn't have the capability of letting someone work despite their sickness," she said. "But I worked from home. They set me all up. It was fabulous."

Staying Power
This Halloween, Amy has been cancer-free for three years. She's back to working in the office, and she's here to stay.
"I stay with Garber because I feel secure," she said. "I feel stable in this job. We have open communication. I know when I need to work on certain things because they communicate that with you and they praise you when you're doing well. There is so much room for growth here."
Amy said she's grown significantly as a person since working with RightWay.
"When it comes to being in front of a bunch of people, I used to run and hide," she explained. "I don't like being the center of attention at all. Leadership has worked with me on that. I'm able to talk more within a group. I've sat one on one with my bosses and they've trained me. Doing the job that we do, it helps build your confidence."
The work culture – which Amy describes as "great" and "family-oriented"— is also accommodating. Nothing made that clearer than the challenges of Covid-19.
"I have a lot of salespeople that have younger kids and we work with them to make sure their schedule works for their lifestyle," she explained. "Whenever I hire someone, we say we are lenient and we want you to be a part of your family's lives. We are very open with that. Even during quarantine because of Covid, schools were closed and daycare was closed. We let their kids come in with them so they could work. It's great that we can help make sure that people aren't stressed if they don't have a babysitter, as long as it stays professional."
Amy said that at the end of the day, everyone at RightWay works together to help each other succeed.
"I appreciate that we all communicate and make sure that everything is going well," she said. "People help me if I need help. Everyone is working together to make sure we have a good team."
Fast Five

First concert? 1984 Def Leppard

First car? 1979 Chevrolet Chevette. Stick shift. Yup, I can drive a stick. Whenever we take one in on trade, nobody here can drive a stick shift so I have to move it out back.

What is your favorite meal? I'm not a picky eater. I love all kinds of food. I guess if I had to pick, I'd go with crab legs.

Three words your friends or family would use to describe your personality? Funny, outgoing, honest

What is an item on your bucket list? I've always wanted to jump out of an airplane.