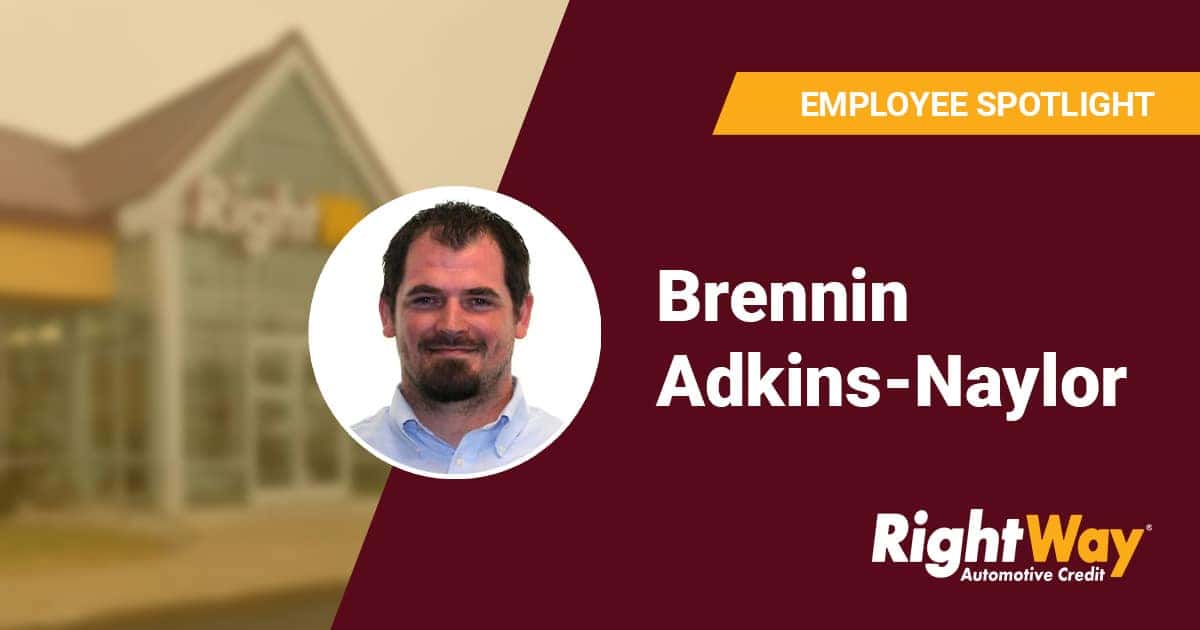 "In This Company, There's Always Room for You to Grow": Brennin Adkins-Naylor's Story
Brennin Adkins-Naylor is no stranger to pushing himself forward.
Even if it's out of his comfort zone. Especially if it's out of his comfort zone.
Automotive sales were originally not in Brennin's comfort zone – hard to believe, since Brennin has seen success as our current sales manager at RightWay Auto Sales in Gaylord, Michigan.
But one accident changed the trajectory of Brennin's entire life.
After going to school and wrestling as a college athlete at Limestone University in South Carolina, Brennin (who is from Corunna, Michigan) started working in construction and carpentry.
"I had no intention of selling cars," Brennin said. "But one day while working on a job site in 2017, I fell off a ladder and broke my leg in over 30 places. It was the most insane injury I've ever had. I was laid up for a year and a half."
When Brennin fell off that ladder, he hung up his career in construction.
"I could have gone back to the construction industry, but there was this fear of climbing ladders again," he said. "It's been four years now, and even now when I climb a ladder, my legs get all shaky. I needed to find a different job."
Brennin's brother was working as a sales manager at RightWay in Lansing, Michigan. A porter role opened up. The job felt like the right fit for Brennin, who was looking for stability in more ways than one.
"They took a chance on me and offered me a porter job because I could barely walk," Brennin explained. "I was just starting to get back on my feet after losing everything…so I took the job."
The position opened a new path for Brennin – and a new side of him that he never knew existed.
Living Proof
It didn't take long for Brennin to get bit by the car sales bug.
To make the transition from porter to sales, Brennin needed to show he was the guy for the job.
"I had to prove myself," Brennin said. "I was a very quiet person and didn't talk much as a porter. But I knew I could do it. Eventually, Jay McCrum [Regional Manager] said they had a sales spot open up at the RightWay location in Flint. I went over there and started selling like crazy. I had to earn my way onto the sales floor, but when I did, I worked hard so they wouldn't regret giving me that opportunity."
Sales unlocked a whole new world for Brennin. It cracked open his shell.
"It opened up a side of me that I never thought I had," Brennin said. "My brother had been doing it forever, but me and him are complete opposites. Still, sales opened up a side of me that I've never seen before, and I ran with it."
He worked at RightWay in Flint for nearly a year, moving up the ranks to achieve the number one salesperson slot.
After growing in experience, Brennin decided he wanted to try out a new location. With support from the leadership team, he became the sales manager at RightWay in Gaylord in July 2021.
"It actually feels really amazing that in this company, there is always room for you to grow," he said. "You can always move up. It feels amazing that you can go from a porter to a sales manager. Working for this company has been a life-changer. The Garber organization treats their employees like family. If you need something, they take care of you. That's what led me to be a manager. I'm all-in to do what is needed for this company. We're a family."
The Right Way
Now in a leadership role, Brennin gets to give the same support that he receives.
"Since I started working at RightWay, I'm a better person and have a better outlook on life," he said. "Going from working in construction to becoming a sales manager…adding responsibilities and helping take care of the team…it's an amazing feeling. When you sell a car, you feel happy because you got to help someone. Now as a sales manager, you are helping every single person who walks through the door. Now I have a team that I have to take care of just like I was taken care of."
Brennin said one of his top priorities is ensuring his team is equipped to achieve success.
"I want to make sure my team members are happy and that they are getting all the tools they need to be successful," he said.
RightWay doesn't just take care of their team members. The company makes sure customers are the top priority so they can see success and feel supported as well.
"People come in and know they don't really have good credit, and our program is amazing and helps them," he said. "I see success stories all the time. Customers come in with a low credit score, and then 18 to 24 months later, they come in with an almost perfect credit score. They go from earning a 2008 car to a 2019 car. I have one customer who went from a 400-credit score to a 690-credit score in two years and have referred over 15 people to RightWay in the last year."
Respect is an important pillar at RightWay, which is exemplified in the processes and options, Brennin said.
"RightWay takes care of everyone," he said. "We create easy payment schedules to help you make your credit grow as fast as possible. We don't discriminate against you because of your credit; we don't care what it looks like. We'll do what we can to get you into a reliable car. A lot of people think they have to have a 'buy here, pay here' situation and have to get a car that isn't as high in quality. But here at RightWay, we have amazing inventory and a process that helps people see success."
Brennin said RightWay has helped him grow as a leader and learn valuable lessons he wants to pass down to his son.
"Thanks to working for the Garber organization, I have become more of a leader," he said. "I'm also way more responsible. This company has made me a better dad because of the leadership skills I see in everyone, which is what I want to teach my son. I want to pass along to him the level of integrity shown here…loyalty, responsibility, the team-oriented mentality…that's what I want my kid to have. Garber and RightWay have taught me how to be a leader. "
Fast Five

What was your first job? My first job was Pizza Hut. I worked there in high school as a server, but then they went out of business.

First car? A 1988 Chevy Camaro

What are three things you can't live without (aside from food, water, air…)? My 3-year-old son, my race car, my family

What is something people would be surprised to know about you? I race cars. I have a circle track; it's an asphalt track. I've raced cars for my whole life.

Best piece of advice you've received? Jay McCrum is amazing and he always says, "A day can make a week and a week can make a month." If you have one bad day, the next day could be a good day. Everyone has a bad day, but if you get down on that bad day, it can ruin your whole week…and a bad week can be a bad month. It will keep carrying over, and it's never good for you.