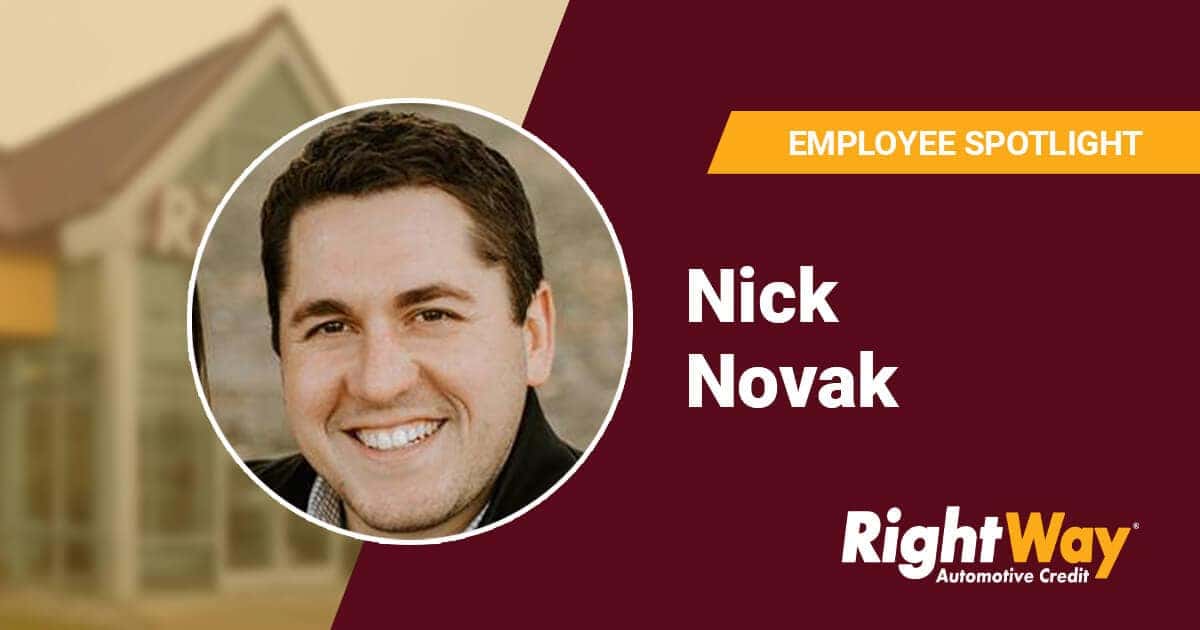 "This Job is Life-Changing": Nick Novak's Story
 Nick Novak has never been a stranger to Garber. After all, he grew up with the name.
"I'm from the Saginaw area, so Garber was a household name," he said. "My parents and grandparents bought cars from Garber. I remember being a kid going with my grandma to the old Garber Buick dealership, which is now the Mid-Michigan Children's Museum in Saginaw. Garber has been in my life for a long time."
The company that became a common denominator in Nick's life has added up to the answer of the ultimate question: what should he do for a living?
"I didn't see myself in the automotive industry," Nick said, "but when the opportunity arose to work for the Garber organization, I had faith in it. It was a chance I was going to take."
Nick is now the sales manager in Clinton Township for RightWay, one of Garber's subsidiaries. While he knew a lot about Garber, he was initially unfamiliar with RightWay.
"I didn't know anything about RightWay," he said. "All I knew was Garber, and Garber was a stable company."
The fact that RightWay was affiliated with Garber – the name Nick knew so well – was enough for Nick to give it a shot.
He's glad he did.
Past to Present
Nick's childhood is full of Garber memories: from the dealership world to the hockey team owned by Dick Garber.
"I remember when Garber brought the Saginaw Spirit to the community," he said. "As a youngin', we went to the games, and that was pretty neat to go. I also remember going with my grandma to the Garber dealership. She bought 50 cars from Garber over the years, I bet."
Years later – in early 2015 – Nick crossed paths with Garber professionally.
"My now-wife had taken a job down here in the Berkley/metro Detroit area as a dental hygienist; we had just started dating," Nick explained. "We got her an apartment down there and I lived in Saginaw. I started looking for work in the metro Detroit area. Through friends of the family, Greg Perrin's [regional manager at RightWay] name was brought up."
Nick decided to learn more from Greg.
"I chatted with Greg on the phone; he told me about what RightWay was looking to accomplish. I was going to be in sales but he knew I wanted to grow. I'm a hungry individual. He said, 'You gotta earn it. Set your goals and get them.'"
Nick was still a bit uncertain…not because of the company, but because of the nature of the job.
"I hmm-ed and haw-ed about it because I had a good thing going in Saginaw with the job I had," he said. "Car sales was never on my radar."
Gathering his information, Nick then got in touch with Rich Perdue, General Manager at Garber Buick in Saginaw. That was the game changer.
"I sat down with Rich Perdue and that's how I ended up with the company," Nick said. "He spoke highly of the group. He told me more about RightWay and pitched me on the idea of Garber and said, 'I highly recommend you take it.'"
In 2015, Nick took the job as a RightWay sales associate in Ypsilanti, Michigan. He was hooked – and it showed in his work.
"I sold cars for one and a half years, and the people around me took notice that I was helping a lot on the floor," he explained. "I was eager to know what was next and the people around me noticed that."
In the summer of 2017, he became a floating manager/assistant manager at the Gratiot location. His hard work continued to pay off, and he got promoted to his current role of sales manager at Clinton Township in April 2018.
Nick's career so far is a testament to the growth opportunities with RightWay and the Garber organization as a whole.
"The opportunity for growth and upper management, it's incredible here," he said. "We've always been trying to accomplish great things, but with previous jobs, it wasn't happening."
Growing Up
It's not just team members' careers that are growing with RightWay. The company itself is, too.
"With RightWay, there is hyper expansion, hyper growth," Nick said. "When I came in, there were a total of 20-something stores. We have more than 40 some locations now, which is about four or five RightWay locations opening each and every year. Those numbers are staggering."
Aside from the growth, Nick said he gets to witness lives change every day in his role with RightWay.
"My wife and I were in Ann Arbor out to dinner and we were with a group of friends, and I saw a customer I remembered at the restaurant," Nick shared. "The customer's daughter walked up to me and said, 'Thank you for getting us a new car.' They had been in the car for a few months. I had fought tooth and nail to help the customer. The daughter remembered me. That was a touching moment."
At RightWay, customers follow a process to rebuild their credit and get into a better vehicle as they follow the steps. Nick said it's so much more than a car. It's independence.
"Life challenges are tough," he said. "That car really means something to customers. Sometimes, we tend to take cars for granted. But a lot of customers come in here riding the bus, and then they get to leave in a car. It happens multiple times a month. It's a game changer."
He said truly valuing customers and creating life impact is not just an individual mindset…it's this company's culture.
"We have truly bought into what we do with our customers," he said. "Everyone on this floor is proud of what we do. You help your customers. We have a great customer base here at the Clinton Township store. You watch the success stories and see the smiles. When you get that repeat customer who says, 'Everything you told me to do? I did and now the financial opportunities are here and that is rewarding,' That is fun and what keeps you around and excited and hungry."
'Garber Cares'
While Nick was slightly hesitant to join the RightWay team back in 2015, he now can't imagine working anywhere else.
"The job is contagious," he said. "I like what I do; I truly like my job. Everyone that works here likes their job."
He said communication is clear, which helps provide transparency and honesty amongst colleagues, regardless of role.
"A lot of organizations have tiered communication and normally you are jumping chains of command, but here there are open lines of communication since day 1," he said. "There's follow up: what are we doing, what are you doing to get to that next level? You have to have the brains to get to where you need to be, but the organization places people in the roles that they are fit for. I look at the leaders around me, and we reflect similar communication styles and values. These people here are open books."
Garber and RightWay are proud of their employees, and that pride shows itself in opportunities for promotion, Nick added.
"Garber cares," he said. "This job is life-changing. It's career-changing. They take time to invest in their people and it shows. I've watched countless people around me grow into the roles they are in today. Garber takes the time to promote within. You don't hear the stories from people promoting from within the way Garber does. Around here, we'll often say, 'Did you see so and so got promoted? Did you see so and so is now running the stores?' They promote within. We grow people."
Fast Five

First job? Bayne's Apple Valley. I moved the apples around. They had a cooler in the back and I would take and move the bins in the cold room and get the apples prepped so they could take them to where they make the cider.

First car? A white Mitsubishi Eclipse. I thought I was in the "Fast and the Furious."

Three things you can't live without? Family, my job (I truly love my job), and Michigan football

Something people would be surprised to know about you? I just got married on November 19, 2021, in Barbados. My wife's name is Katie.

Best piece of advice you've received? It comes from my dad. He said to me, "Luck happens when hard work and timing intersect. Stay dedicated to the goal." He laid that out for all of us. You've got to stay focused because luck isn't a thing. Hard work always goes noticed.