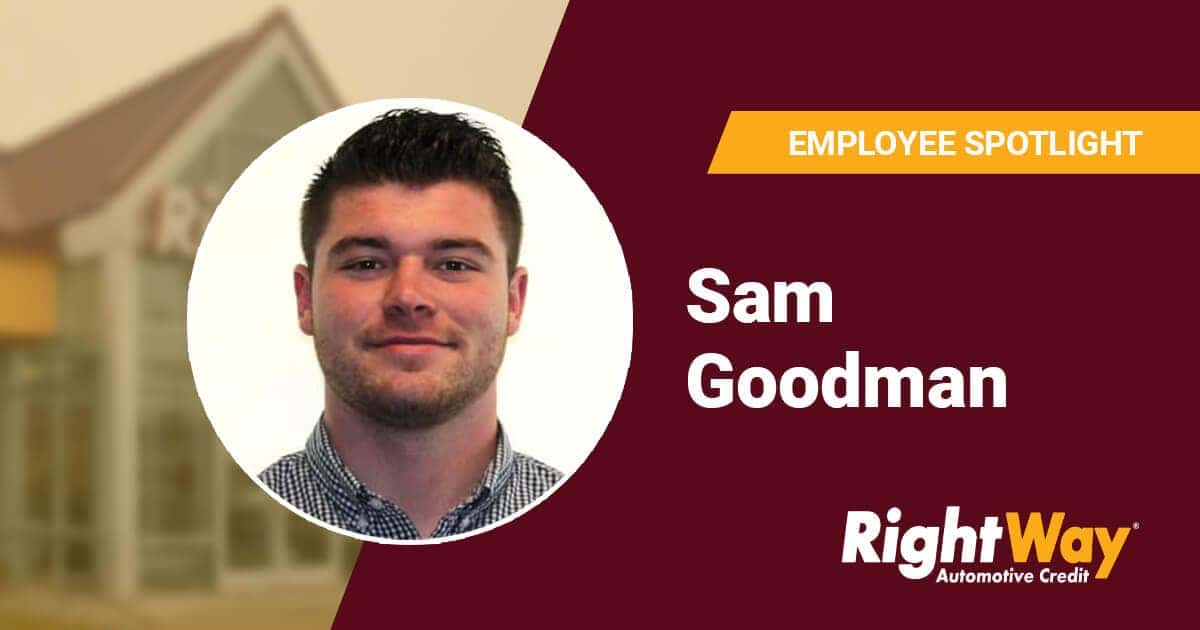 "I'm Glad Companies Like RightWay Exist": Sam Goodman
We all know things change: The seasons. Gas prices. The weather. Who's coaching what sports team.  
Want a more specific example?
When Sam Goodman was in college, he didn't know anything about RightWay. Now he's excelling as the RightWay Lansing's sales manager, a role he's held since October 2020.
"I was struggling with finding a job during college that would work for my schedule part-time while I was a student," Sam explained. "My uncle works at Garber and knew it was affiliated with RightWay. I stopped into RightWay to see if there were any opportunities in Mt. Pleasant, even though I didn't know anything about RightWay."
Things worked out. Sam got hired as a driver in 2016. The next year, he moved up to porter. Then he got promoted to handle sales at the Lansing store in June 2019, where he ended up becoming the sales manager.
Things really do change. As Sam has learned, it can often change for the better.  
Breaking the Stigma
Another thing that changed? Sam's perception of car salesmen.
"Used car salesmen can get a bad rep; that was what they pushed in my sales classes," he said. "In college, they pushed us away from being a car salesman. I was hesitant. In some of my classes, they almost viewed it as a dirty position."
RightWay quickly helped Sam learn that the used car salesmen stereotype was just that: a stereotype.
"Just talking to everyone in the organization helped me change my mind," he said. Nick Miller [Assistant Regional Manager] and Mike Crane [General Manager] assured me that used car sales is not the way everybody makes it seem. I didn't know anything about it, but it made me much more comfortable and open to the situation."
Sam dropped the stigmatized view. It helped that he felt right at home at RightWay.
"Everyone treated me like one of their own," he said. "It made it easy to work there. There were never problems. I felt welcomed there. It's the people we hire. We try to hire good people in our company and they see that in me."
Sam worked for RightWay as a driver and then as a porter while earning his Marketing and Sales degree. He graduated in 2019, then continued his career at RightWay in Lansing.
That's when he entered the world of sales. He was hesitant at first – but he didn't have to approach this new world on his own.
"Sales was great," Sam said. "At first, I didn't know what I was doing, but then Ryan Thompson [Regional Manager] moved into management. Ryan came in and taught me a ton."
With leadership's encouragement, a spark was lit within Sam.  
"I got really competitive around here, which is what I love," he said. "I am very competitive in anything I do. It was a fun atmosphere on the sales floor competing with everyone."
He said the competitive edge isn't the only reason it's a fun atmosphere at RightWay.
"The culture here is fun," he said. "Everyone around here is friendly, nice, will do things outside of work, whether it's a small get together or regional group. We try to enjoy your work as much as possible. It's not cutthroat like some of the places. We try to balance our work and play."
At RightWay, Sam gets the best of both worlds.
Changing Lives
Sam said one of the best parts of his job is witnessing the true impact RightWay makes in the lives of customers.
"RightWay is not a buy here, pay here place," he explained. "We have actual finance sources where we are not taking in-house payment. It helps our customers a ton as far as building credit."
Sam said he's seen the RightWay process help customer after customer.
"What we do here at RightWay is incredible," he said. "I know a lot of people struggle getting a reliable vehicle or even just getting financing, and we provide that for them with reliable transportation. It is great to see.
The process is so successful for people, that customers show their gratitude towards Sam.
"I've had hugs, tears…people truly just being grateful and letting me know" he said. "It's great to feel appreciated. It makes me feel good that I can help someone out in a process that is not always the easiest or most fun for people. I'm glad companies like RightWay exist."
There's No Wrong in Right
Along with helping customers, RightWay has helped Sam grow, as well.
"I have grown up a lot here," he said. "I was just graduating college so I didn't know a ton of day-to-day work life and growing as a sales professional and now moving into managing people…I have grown a ton as far as maturing. I try to learn something every day. I try to push people to be the best they can."
Sam said growth and a family-like atmosphere are key components that keep him coming to work every day.
"I stay here because of the family atmosphere and the promoting from within," he said. "They try to do what is best for the company, but they are taking care of their employees, too. Realistically, they have always given me an opportunity, especially when I'm working towards something. That keeps me here."
RightWay prioritizes their people, he added.
"It speaks volumes to me how we promote within," he said. "There's always an opportunity to continue to grow here, as long as you are putting in the effort and work and doing what needs to be done. RightWay has demonstrated that from the moment I started here until now."
Sam has come a long way from his college days thinking a used car salesman role is something to avoid. The experience has taught him an important lesson.
"Always keep an open mind because there's an opportunity that can lead you to a great path in life in any field," Sam said. "Keeping an open mind led me here, and I am happy it led me to RightWay."
Fast Five

First concert? Snoop Dog

First car? 2006 Grand Prix. Blue, green, purple…whatever color the sun wanted it to be.

Favorite meal? Steak and asparagus

Three words to describe your personality? Fun, personable, caring

Bucket list item? To go to the Super Bowl or the NBA Finals. I've seen the Tigers play in the World Series.