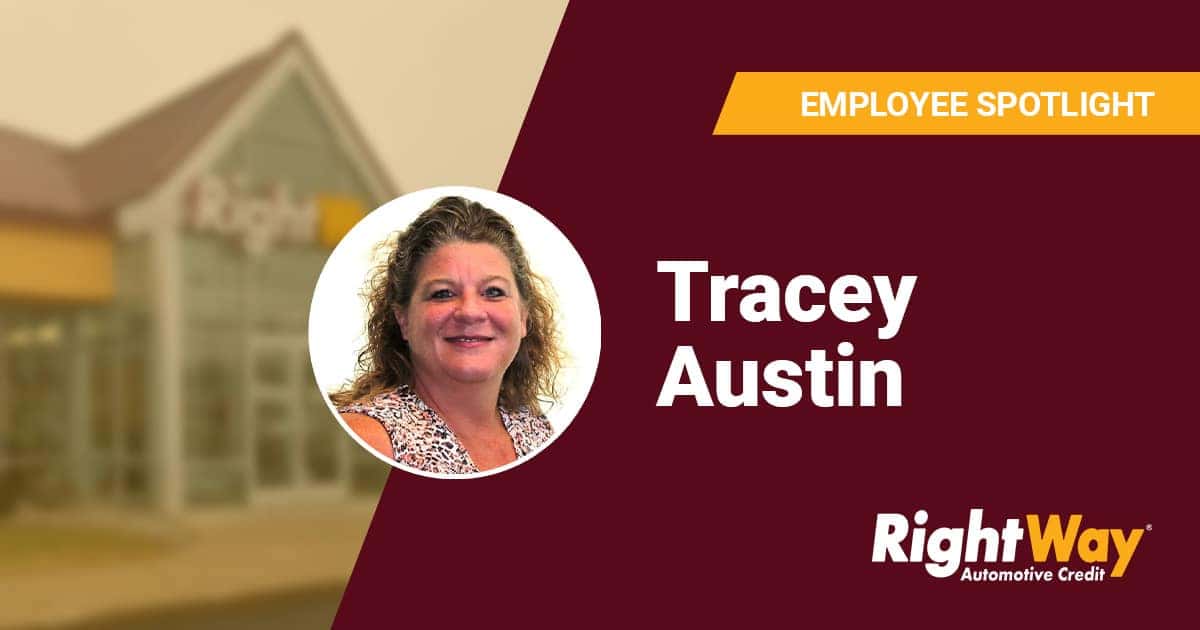 "I Do This Job Because We Change Lives": Tracey Austin's Story
As a sales associate for RightWay Auto Sales, Tracey Austin doesn't just help customers rebuild their credit.
She helps them change their lives.
"I wanted to work at RightWay because I want to help people every day," she said. "When I tell people about my life and hear about theirs, we are equal. What I want to do every day is tell people how to make their credit better so they can make their lives better. I do this job because we change lives. I try to help people figure things out."
Tracey's career in the sales industry began when she started selling advertising to dealers. She spent 15 years in the mortgage business, before deciding it was time for a change.
"I got my first taste of this type of career when I worked for a RightWay competitor actually," she said. "I decided to try the new car business, and it didn't take long to realize it wasn't about selling cars to me. It was about helping folks." 
A former colleague helped connect Tracey to RightWay. Tracey joined the Tallmadge, Ohio, location as a sales associate four years ago. By changing jobs, she gained a family.
"These are my people; this is my family," she said. "RightWay backs me up, and I have a great opportunity to make an impact."
'I'm Just as Equal'
Life always hands us lessons…and challenges. An unexpected family situation turned Tracey's world upside down.
"I have a child that was given 28 days to live," she said. "That situation completely changed my life. He has spinal muscular atrophy, which is the number one killer of kids under 2 years old. He's a miracle baby. That situation caused a lot of things to happen in my life. But we had hope. And one day, we realized, 'He's going to live.' He's come a long way."
Tracey's son will soon be 10 years old, defying the odds that were stacked against him as a newborn.
But the challenges of the situation gave Tracey a new perspective that helps her empathize and connect with customers today. She helps guide them along the process of rebuilding their credit.
"I want to do the best job for them and educate them," she said. "There isn't anybody that isn't different from me. I've been exactly where everyone's been. I'm just as equal as them. People have to be treated with respect. That's what I do."
From Needs to Wants
In her role, Tracey helps educate the customer so they can switch from getting what they need to earning what they want.
"The majority of our customers are in a 'need' situation, not a 'want' situation," she said. "It is important to understand that those two are different things. We aren't selling cars. It's educating people and saying, 'This is where you are at, this is what you have to do to rebuild your credit, and this is our program that gets you there'. Life hits you and things change. I teach people that if you get off the path and things happen, this is what you need to do to get back on the path. Don't worry what your neighbor is doing."
Tracey said she gets an immense sense of fulfillment in watching the process work for people and helping them achieve their goals.
"Many of my folks have bought homes after going through this process and rebuilding their credit," she said. "When they get rewarded, and to see how excited they are…that's what keeps me going." 
"I've seen customers come in and their credit is not good, so they don't have a lot of choices as far as what type of car they can get," she explained. "But I've watched them take the path, get a credit card, and go through the process. The program is designed so they can build up to getting something nicer and newer."
One of Tracey's customers at RightWay came in and bought a 2009 Hyundai Sonata. The customer paid for it in 18 months and was able to upgrade to a newer GMC Acadia. Because she was able to build her credit through the plan that Tracey helped her follow with RightWay, the customer could buy her own home.
"She even sent me a thank you email," Tracey said. "She said she is blessed that she came in, and she is forever grateful that she is able to buy her house after building her credit back with RightWay."
Tracey said seeing the process work for people never gets old.
"I love my customers," she said. "I have been here four years now, and it's great to see them be able to go through the process and pick what they want and do what they want. That gives me goosebumps."
Not only does she enjoy working with customers, but Tracey feels supported by leadership: a refreshing change compared to her past roles.
"I can always go to my managers about anything," she said. "Our mindsets are the same. There's been times at past jobs where I haven't been able to do that, but here, I have the support and tools in my toolbox to be able to be super successful and productive at my job. I'm fortunate to work with who I work with. My managers know that my heart is where it's supposed to be. I know their heart is where it's supposed to be. We are all on the same page."
She said our company values align with her own personal values, which guides her actions and attitude every day. 
"Here at RightWay, our motto is we haven't done our job right until a customer comes back and does business with us again, and that is how you build a solid business and family," she said. "What I believe is what RightWay believes, so it makes it easy. Doing the right thing every day is what got me here today."
FAST FIVE

What was your first job? My first job was delivering newspapers and then I worked at an ice cream place.

What is something people would be surprised to know about you?  That I'm from Orrville, Ohio, which is the home of Smuckers Jelly. They employed a lot of people, like the entire town. Everyone had a Smucker in their class. My uncles used to work for Smuckers, so when I worked for the car dealership, I'd have them get me mini bottles of jelly — blackberry, apricot, all the flavors — and I'd make up baskets to hand out. Customers would say, "Where's my jelly?" It was fun.

What's your favorite animal? Panther

What are three things you can't live without? Coffee, my job, my family

What's your favorite hobby or passion? We like to travel around as much as we can. My husband is a volleyball coach, and my daughters play volleyball, so we're involved with that, too.

What was the best piece of advice you've been given, and who gave it to you? My husband gave it to me; it's that infamous Michael Jordan quote: 'I've missed more than 9,000 shots in my career. I've lost almost 300 games. Twenty-six times I've been trusted to take the game-winning shot and missed. I've failed over and over and over again in my life. And that is why I succeed.' I believe that. Failure leads to success.